About Radix
Based in Vancouver, Radix Theatre Society has been producing innovative and exciting performance events locally and nationally since 1988. Our mandate is to foster the creation and production of original and socially relevant work. The company primarily creates interdisciplinary performance but also ventures into other media, focusing on experimentation and collaborative creation. Radix is currently steered by Artistic Director Andrew Laurenson who works with a team of artistic associates in developing company vision and projects. Long-time Co-Artistic Director Paul Ternes stepped recently down from his duties but continues his involvement with the company as an artistic associate.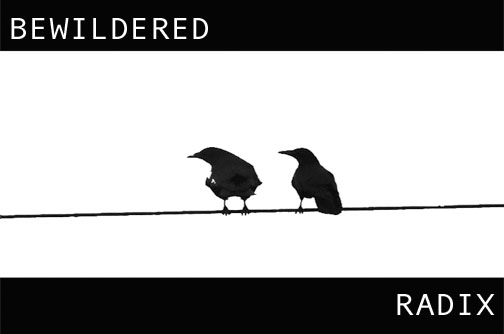 Radix Theatre has created many ambitious performances over the years incorporating dynamic physicality, seductive visual design, and provocative content. The company has created a new production at least once every year since its inception, inspired by issues such as environmental degradation, sexual repression, car culture and terrorism.
Most of our work is site-specific, experimenting with the audience's relationship to the performance. Performance locations include an inner-city field, a tour bus, a diner, an underground garage, a downtown office building, a parking lot with audience members in their cars, and IKEA. The company's most recent major production Assembly was designed after a self-improvement seminar and set in a hotel conference room, winning the Critics' Choice Award for Innovation at the 2007 Jessie Richardson Awards, and a Jessie Award for Outstanding Performance by an Ensemble. The show was also selected one of the top live performances of 2007 by The Georgia Straight.
Radix has carved out a distinctive role in the Vancouver performing arts community by reaching across disciplines and pushing boundaries. The company harbours an experimental approach to both process and form, creating work that is fresh, engaging, and invigorating, while maintaining accessibility. The Radix experiment is an attempt to lay bare our shared humanity, and above all, inspire.
Artistic Director
Andrew Laurenson
Administrative Manager
Christie Watson
Artistic Associates
Emelia Symington Fedy
Jesse Garlick
Andreas Kahre
Vanessa Kwan
Billy Marchenski
Kathleen Ritter
Ron Samworth
Stefan Smulovitz
Paul Ternes
Robyn Volk
Board of Directors
Laurie Guy (Board liaison)
Jason Gratl
Rory Gylander
Keiron Simons
Leslie Pomeroy
Founding Members
Radix was co-founded by Belinda Earle, Michael Hirano and Jud Martell, whose boldness and vision laid the groundwork for the company's current achievements. Radix Theatre Society was incorporated in 1991 and two years later attained federal charitable status. The company is regularly supported by the Canada Council for the Arts, the B.C. Arts Council, the Province of B.C. through the Gaming Commission, the City of Vancouver, the Vancouver Foundation, and the Hamber Foundation.
Radix is a registered non-profit society with federal charitable status. We gratefully accept financial donations. Your support will assist our exploration of new territories in performance, and help us continue to employ a diverse range of talented and committed artists. Donations over $10 will receive an official income tax receipt. Thank you for your contribution.